HAIKU WORKSHOP: A DOORWAY INTO THE MEANING OF OUR OWN LIFE
September 23, 30 & October 7, 14
Saturdays – 3:30 to 5:00 pm
Starcross Community 34500 Annapolis Rd,  Annapolis, CA
707-886-1919 / www.starcross.org
~
"A haiku is a very brief form of poetry borrowed from Japan…Often the poem engages some detail or moment otherwise overlooked, and that detail or moment gives a glimpse into the mystery of the universe. The haiku becomes a doorway into the meaning of the here and now, and so a doorway into the meaning of our own life." 
So begins haiku master Professor Cliff Edwards' little work The Haiku Way to Enlightenment, which he uses to teach his students at Virginia Commonwealth University and which we here at Starcross have incorporated into our experience with haiku for many years. Cliff Edwards, is a good friend and colleague of Starcross.
Brother Toby, a longtime teacher, student and writer of haiku, will be leading A Spiritual Approach to Haiku, a four-week workshop Saturdays from 3:30-5:00 pm, beginning September 23rd at Starcross Monastic Community, 34500 Annapolis Road, Annapolis, CA.
We will loan each participant a copy of the The Haiku Way to Enlightenment and, consistent with Starcross Monastic Community's custom, this workshop will be free of charge. It is important for each participant to attend all the sessions.
The focus of the four sessions will be how haiku can be a spiritual path of mindfulness and simplicity for the haiku writer and reader. We welcome those beginning or experienced in haiku!
Spaces are limited to 8 people, so please contact us soon!  If you have any questions, please do not hesitate to contact us!
If you want to stay over Friday and/or Saturday evening simple space in our 1902 farmhouse will probably be available.  Please contact us soon!
Autumn is the preferred season for many haiku writers.  It is a beautiful time of year to be aware of the little things around us we often ignore!
---
Our certified organic wild blackberries are big, bold, and beautiful! Help us bring in the harvest. Here, we make jam and pies from these berries and freeze some for the winter as well. You can too, but by the time you get home, they might already have eaten your whole pail of berries. They're that good!
Be sure to wear long sleeves and pants and solid shoes. The thorns can get scratchy! We will provide latex gloves. Pick some for us and some for you. Bring sunscreen, a hat, and a pail to take your blackberries home in. Sorry, but we cannot have pets come on a day like this, but children are welcome.
You can also take this opportunity to walk around the property and follow our self-guided tour, which tells you a bit about our history and what we do here at Starcross.
Contact Sister Julie at commmunity@starcross.org  or 707-886-1919 to let us know if you are coming and/or if you have any questions or need directions.
---
---
 Help Us Keep This Spiritual Furnace Alive
---
EARTH DAY "GARDEN PARTY" AT STARCROSS
SATURDAY, APRIL 22nd, 9:30 to 3:30
Earth Day 2017 is a time to be grateful for the gifts of our beautiful, fragile and presently very threatened planet.  What better way to celebrate Earth Day than by helping to plant the garden at Starcross!
The fruits of our labor will be given to neighbors in need at the Starcross Food Pantry, and offered at our Honor Produce Stand.
Are you itching to get outside and get your hands in the dirt?  The organic seeds we've been nurturing in the greenhouse are growing into healthy vegetable starts and will soon be ready to go into the ground.  Would you like to help us dig and hoe, plant and mulch?
We'll provide work gloves and water as well as a nice lunch for our eager workers.  Dress to get dirty.  Bring a hat and sunscreen.  Bring your friends (no pets please).  We can't babysit but children are welcome to come help.  This will be a fun time to join with others in making a real contribution!
Please RSVP by calling 707-886-1919 or emailing  community@starcross.org
---
 COME JOIN US FOR OUR OLIVE HARVEST!
FRIDAY, NOVEMBER 11th & SATURDAY, NOVEMBER 12th
The olives are ripening! Our harvest will take place on Veteran's Day Weekend, on 
FRIDAY, NOV. 11 & SATURDAY, NOV. 12

, and in the unlikely event we don't quite finish we will continue on 

SUNDAY, NO

V. 13

.
We'd like to invite you for a fun day in the country!  Olive harvest is always exciting.  This year's oil should be wonderful.  We're hoping lots of friends will come out.  You'll acquire a new skill for your resume ("experienced olive picker") while you are making a real contribution to our self-support efforts here at Starcross.  Win-win!
The predictions promise beautiful weather.  Come any time between 
8 am and 5 pm

 and stay as long as you want.  We'll have a simple buffet lunch available whenever you feel hungry.  And we can teach you how to be an olive picking expert in no time at all!
You should dress comfortably in layers.  Bring a hat and sunscreen.  We'll provide gloves and bottled water.  Unfortunately at this very busy time we can't accommodate pets or young children.  But do feel free to bring friends, neighbors, and relatives.
If you can, please let me know you will be coming, how many pickers, and what day and time.  At the last minute if you have others who'd like to come, that is just fine.  The more the merrier!  You can email me at sj@starcross.org or call Karen in our office at 707-886-1919.
---
OX-HERDING IN THE REDWOODS
Saturday, October 1st – 10 AM to 4 PM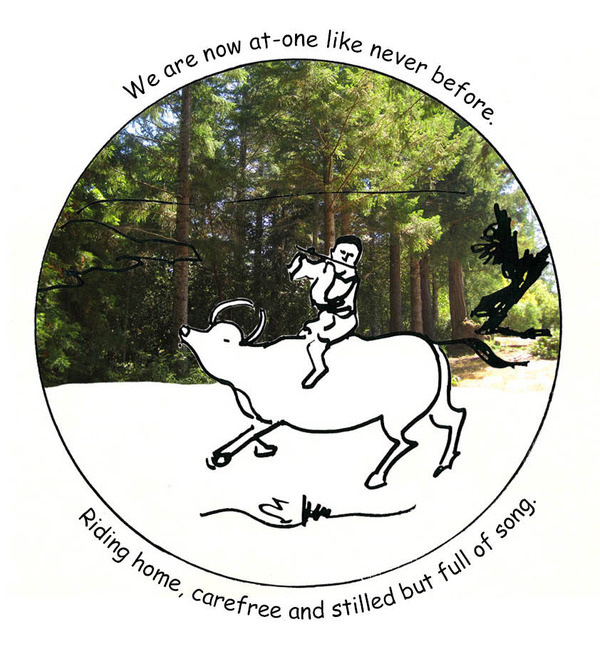 At this very special workshop, Brother Toby will apply the process of spiritual growth found in the 11th Century "Ox-Herding Pictures" of Ching-Chu to contemporary life.
This Taoist-Buddhist work, consisting of pictures and poems, evolved through the centuries. In 1986 Brother Toby with the collaborations of a number of friends, notably Paul Clasper (former Dean of the Anglican Cathedral of St. John in Hong Kong) found a bridge between the classical pictures and Western Spirituality.
Brother Toby's classes and recordings were very popular but he has, for some time, been pondering how the concepts apply to the spiritual quests of people in 2016.
This day will have three sections:
Beginning The Quest
Finding The Stillpoint
From Personal Fulfillment to Social Compassion
If  weather permits, the workshop will be outdoors in the Meditation Circle, if not then in the Music Room. A Lunch will be provided.  As with all Brother Toby's activities, there is no charge but advance registration is required.
Attendance is limited!